Dear darling friends,
Google Books Ngram viewer is a very interesting tool. It shows how writers have been using words since the 1800's till recently. What makes it brilliant is the comparison charts between words.
I typed in two conflicting words – 'Love and Hate'. I was a little sad yet VERY delighted with the results. Let me explain the contradiction!
Around 1980, out of 10,00,000 (a millions) words keyed in – 2 were 'HATE' and the word 'LOVE' was written about 7 times.
In 2019, out of 1,00,000 words keyed in – 4 were 'HATE' and 28 was 'LOVE'.
A very simplistic assessment is, while HATE has doubled (sadly), LOVE has grown four times (yipeeeeee). There! I have explained my contradictory emotions.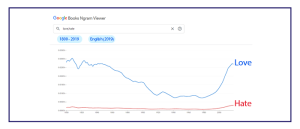 I would love to see that day when HATE is used only as a reference to the past and less than once in a million. I would love to read LOVE as a counter reference and as a LIVING force in the present hundreds of times. I believe the only word that is more powerful than the word LIFE is the word LOVE.
What do you think my darling friend?
(This post is inspired by the wedding of my nephew Rohit and his lady love Varsha. Check out an amazing video of their wedding below.)
With love, prayers and exceptional wishes,
naren
Change your thoughts. Change your life
About Naren    About Life School   Our signature program
To have such amazing messages in your mailbox, do subscribe us.
Do check out more videos on our YouTube channel.
(Visited 1 times, 1 visits today)