Dearest Darling Friends,
Basis of Every Relationship…
Think and write down the names of a few important people in your life.
Now think, what do they 'need' from you? What is that you 'need' from them? Is it one from the sample list below.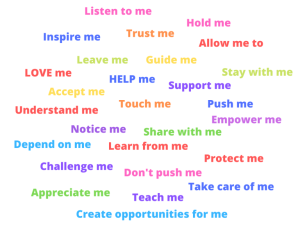 The truth is, the basis of every relationship is a need.
It is natural, wonderful and perfectly ok.
Having clarity about the 'needs' keeps things simple.
By meeting these needs, you will be superbly maintaining, sustaining and nurturing your relationships forever!!!
With love, prayers and exceptional wishes,
naren
Change your thoughts. Change your life.
Watch inspirational videos
Read more Life School Messages
(Visited 1 times, 1 visits today)